Braun ThermoScan® – no.1 brand among doctors*
Thanks to its patented technology, Braun ThermoScan® is already regarded as a benchmark for accuracy and is widely used and endorsed by doctors around Europe. Making Braun ThermoScan® the no.1 brand recommended by health care professionals.*
Why is the ear an excellent site to measure temperature?
Braun ThermoScan® measures the infrared heat generated by the eardrum and surrounding tissue. Infrared heat is the natural warmth emitted by our body. When the Braun ThermoScan® IRT is placed in the ear, it continuously monitors the infrared heat emitted by the eardrum and surrounding tissue. Since the eardrum shares blood supply with the temperature control center in the brain, the ear accurately reflects the core body temperature. As a result, when the temperature rises, it is immediately detectable in the ear.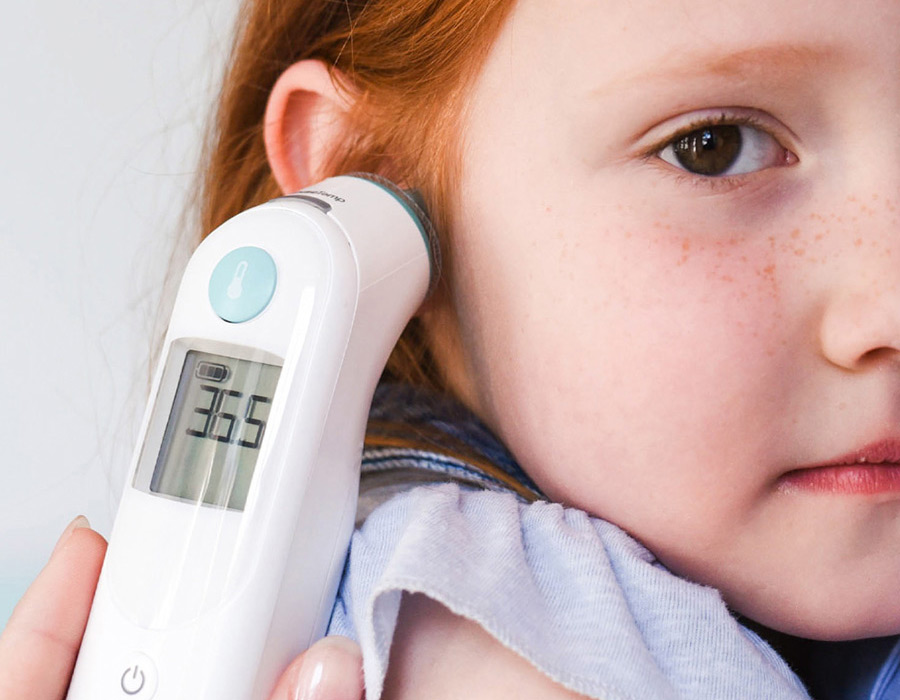 Proven more accurate than rectal**
For a long time taking a child's temperature has been synonymous with bare buttocks as the rectal temperature was considered the most reliable. However, taking a temperature with Braun ThermoScan® ear thermometer has been proven to be more accurate than rectal readings**. The Braun ThermoScan® is a simple, easy and accurate way of checking your child's temperature, using the small soft tip, the temperature is taken gently in the ear of the child in just a few seconds, with professional accuracy.
Taking temperature with Braun ThermoScan® ear thermometer has been proven more accurate than rectal or temple temperature taking.**
Patented pre-warmed tip and ExacTemp® technology for professional accuracy
Unlike other thermometers, Braun ThermoScan® ear thermometer features a patented pre-warmed tip that minimizes the cooling effect of a cool probe tip. Whereas the tip of other thermometers can cool the area within the ear where the temperature is being measured, resulting in variable or inaccurate readings, the patented pre-warmed tip on the ThermoScan® is pre-warmed before use, to ensure professional accuracy that you can rely on, time and time again. The soft speculum and tip also ensures the thermometer is gentle and comfortable on a child's ear. Plus, the ExacTemp® guidance system confirms the correct position and accurate reading with a light and a beep.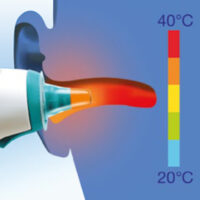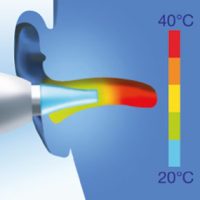 Suitable to take temperature for all ages?
The probe of Braun ThermoScan® was designed to avoid damaging the eardrum, regardless of the person's age. Even though the probe does not fit into the ear canal of a new-born, clinical studies have confirmed that accurate temperature readings can still be obtained in this age group when the Braun ThermoScan® is used very carefully.
Learn more about our Braun ThermoScan® thermometer range:
Braun ThermoScan® 7+ IRT6525
Braun ThermoScan® 5
*No.1 in awareness, usage and recommendation. Source: Ipsos, online study among n=802 GPs and Pediatricians in four European markets (n=200 each in GE, UK, FR, NL), fielded May-June 2012.
**Measurements in detecting temperature changes. Nimah, Marianne M., et. al. "Infrared tympanic thermometry in comparison with other temperature measurement techniques in febrile children." Pediatr Crit Care Med. 7.1 (2006): 48-55.